You are here
Kenya Walking Tour 2016
This is a genuine adventure and is likely to be one of the most exciting journeys you ever make!
Walk for days through open grasslands surrounded by zebra and wildebeest, gather around the fire at night as Maasai elders recall days of hunting lions with spears, camp in remote forests where colobus monkeys crash through the trees and bushbuck flit through the shadows, help herd the cattle back home at sunset. All of these experiences and more await you on this very special, once in a lifetime opportunity to walk with the Maasai through the heart of their homeland.
Inspired by our recent five week long walk through a part of Kenya's Maasai lands (www.walkingwiththemaasai.com) we're offering you the chance to walk a part of the same route. This is no package tour. This is a genuine adventure and is likely to be one of the most exciting journeys you ever make. On this two week long walk you will experience a slice of Kenyan life that very few other tourists ever get the chance to experience.
Most visitors to Kenya jump from one national park to the next and actually learn little about the people of the country. On this walk we want to give you a genuine slice of Maasai culture in an area where foreign visitors are very rare. By walking we will really get a feel of the country, the Maasai and the environment they live in. There will also be plenty of wildlife and we're likely to walk among herds of antelopes and more. To cap the experience off we will finish with two days of game drives in one of the fabulous, and exclusive, wildlife conservancies fringing the Masai Mara National Reserve.
This is a one off opportunity to do something that classes as real adventure and that will provide you with memories for life.

The Schedule Day One – Arrival Nairobi international airport. Overnight in tented camp in Nairobi's Karen district. Day Two – Full day drive to Loita Hills. Overnight luxury tented camp on the edge of the Naimina Enkiyioo forest (Forest of the Lost Child) and not far from the large village of Entasekera. On the way we skirt around or through a couple of conservancies and are likely to see giraffe, zebra, Thompsons gazelle and impala. 7hrs drive Day Three – Walk through Loita Hills and Naimina Enkiyioo forest to our camping spot in a remote forest glade. The day's walk will take us through a landscape of swamps, forests, farmland, open grass meadows and through villages. Animals commonly seen as we walk include colobus monkeys, baboons, hartlaub turaco and hornbills. At the camping spot bush buck and buffalo are common night time visitors. Moderate 5hrs walk with some steep up and down. Day Four – After breakfast we walk, via a different route, back to the tented camp of day two. We will arrive here by mid-late afternoon which should give us time to walk down to the nearby manyatta (farmsted) and watch the cattle come home in the evening. Otherwise birdwatching or just relaxing and enjoying the view is possible. Overnight at tented camp. 4hrs walk. Day Five – Walk to Tiamanangien village on the southern side of the Naimina Enkiyioo forest. The route takes us through dense forest and then over gorgeous rolling hills and grass meadows before entering light agricultural countryside with numerous small manyattas. Lots of forest birds visible on the first part of this fairly easy walk. We spend the night camping in the paddock of an English-South African family who are heavily involved in the local Maasai community. There will be time to learn more about their projects, visit the local school (if open) and get to meet the local community. 5hrs walk. Day Six – The morning will be spent exploring around Tiamanangien village, visiting the various projects and meeting members of the local community. In the afternoon we have a short, easy and very beautiful walk through an ever-changing landscape that starts as sub-tropical forest and quickly turns to drier acacia forest characterised by many huge yellow-barked acacia trees. A highlight of the walk will be when we pass by the salt licks that Maasai from miles around come to with their cattle. We will overnight in slightly more open country near a little village. 3hrs walk. Day Seven – Today is an exciting one! We start by walking through ever more open, and populated, countryside very close to the border of Tanzania. At some point during the morning we will pass through Ormesutie, the biggest town in the area. If we're lucky we will pass through when the market is taking place. We will either stop for a drink or lunch here. Afterwards we climb steeply uphill through scrubby bush to the Parkereyian plateau. This is a very different world. Largely treeless and alternately damp and cold or sun blasted and hot. It will take us nearly two days to cross this high, and very wild plateau. There are few manyattas up here and the Maasai living here are among the most traditional in Kenya. Wildlife is numerous and very visible. We will likely walk through herds of zebra, wildebeest and Thompsons gazelle. Overnight close to a manyatta on this plateau. 5hrs moderate walk. Day Eight – Today we continue our walk along the Parkereyian plateau. The plateau starts to undulate a little more today and in the low valleys are small patches of woodland. Elsewhere high altitude grasslands stretch from horizon to horizon and we will likely see lots of zebra and gazelle. We finish the day close to where the plateau drops rapidly down to the more vegetated, and populated, lowlands. In the far distant haze the grasslands of the Masai Mara Reserve are just visible. Easy 4 hrs walk. Day Nine – Today is an easy walk down off the plateau and into the most populated area we have yet walked through. Animals are less likely to be seen today but there's plenty of cultural interest. The day ends in a large village where we will camp in the garden of a local villager. If possible we will spend the afternoon meeting a Maasai traditional healer (this is not guaranteed) and other prominent members of the local community. 4hrs easy walk. Day Ten – It's another fairly short walk today. We will probably spend the first part of the morning meeting more of the local community before walking onto the home village of one of our guides. This is a very diverse days walk which takes us across cattle grazing grounds, over steep sided hills and through dry woodlands with lots of wildlife (elephants and buffalo are a possibility) and then through more fertile and populated areas with lots of little manyattas. The day ends in a small, pretty hillside village with wonderful views to Tanzania and the nearby Masai Mara Reserve. In the evening we can help herd the livestock back into the corral before settling down to a long evening listening to the elders talking story. 4hrs moderate walk. Day Eleven – After a morning with the cattle and goats we will cross through wildlife-rich woodland and over hills deep into the Ol Derikesi Conservancy. The countryside here is home to lions, buffalo, elephant, giraffe, hyena and all kinds of antelope and gazelle and this makes this one of the more exciting stages of the walk. We will set up camp in the bush and eat dinner to the sounds of the African night. 4hrs moderate walk. Day Twelve – Our customised safari jeeps will arrive at dawn to take us on a full mornings game drive. With luck we might see lions, cheetah, leopards, elephants and much more. We will have a bush breakfast and can either return to our camp for lunch or stay out all day on a game drive. If we choose to return to camp then in the late afternoon we can go out on another game drive and finish off with a sundowner drink. We will remain at the same bush camp. Day Thirteen – Today is a repeat of yesterday except that we will overnight in a different bush camp. Once again expect lots of thrilling wildlife encounters. For those who don't want to do another full days game drive it's possible to go on a bush walk and learn about the medicinal properties of all the plants. Overnight at a bush camp. Day Fourteen – After breakfast we start the long drive back to Nairobi. We will stop for lunch in the busy market town of Narok. Compared to where we have just been this will seem like a city! For those not flying straight home tonight we will stay overnight in a tented camp in Nairobi's Karen district – and no doubt relish the chance of a good hot shower and decent internet connection. Tour Ends. 6hrs drive.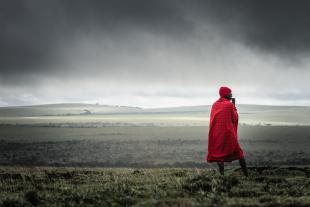 Walking and Day to Day Life Each day will be different and it's important to note that there's no set in stone schedule. We want to offer you a unique experience and an opportunity to get to know our Maasai hosts, the environment they live in and the wildlife they share that landscape with. In general we will wake at dawn and start walking after breakfast. Most of the time the walking is fairly easy, the terrain often only lightly undulating and anyone of reasonable walk fitness will find this an easy walk (although days can be long and it can get hot). In the high Loita Hills though there is a lot more up and down and some bush-whacking through dense forest. On average we will walk for around five hours a day. The scenery varies by the day and can see us crossing high, bleak grassland plateaus, pushing through dense forest filled with buffalo, strolling across open savannahs with herds of zebra and wildebeest scattering as we pass or walking from manyatta (farmsted) to manyatta surrounded by Maasai with their cattle. On most days we will walk for three or four hours (including breaks) in the morning before stopping for lunch around midday to one o'clock. After lunch we will walk for a further hour or two. Once we arrive at that nights camping spot we will spend time exploring the surrounds. This could include anything from bird-watching to helping a local villager bring his livestock back to the corral in the evening. While dinner is being prepared we can enjoy a sundowner drink or perhaps a cup of chai (tea) in a manyatta before eating dinner and falling asleep in our tents to the sounds of the African night! There will be no staged 'cultural shows' on this expedition, but if, as we walk, we get word of a local ceremony, celebration or any other potentially interesting event or encounter we will do our utmost to veer off our scheduled route to witness it (so long as the local community grant us permission to do so).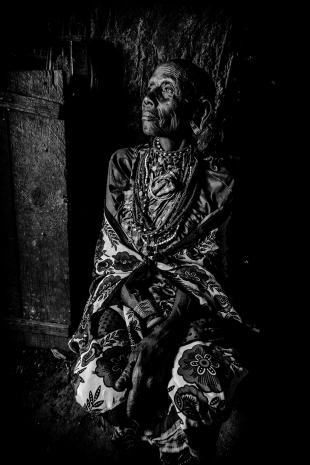 Accommodation & Food This is a camping safari. On most nights we will camp close to a Maasai manyatta. Accommodation will be in large, three-man tents (max of two people per tent). Mattresses and blankets are provided, but you should bring your own sleeping bag. On most nights we will be camping in a different location so the exact set up my vary night from night. On nights when weather conditions dictate a large dining tent will be set up, but on fine nights we will most likely eat under the stars. Whenever a normal toilet isn't available a toilet tent will be set up. For two nights of the walking safari, and in Nairobi, accommodation will be in luxurious, permanent safari tents with en-suite bathrooms. Accommodation will be on a shared basis, but a single supplement is available for those people travelling alone who prefer not to share. Please enquire for single supplement price. Whilst out walking the food we will eat a mixture of things like stews, curries, pasta, ugali (classic East African maize meal dish) and such like. We will carry plenty of snacks with us as we walk. We can cater to vegetarians.
Wildlife High in the list of most peoples questions is "Isn't it dangerous walking with all those animals?". The simple answer is no! Yes, it's true that on most days we will walk in close proximity to large mammals but these are normally confined to zebra, impala, wildebeest, Thompsons gazelle, giraffe and other harmless creatures. In the forests of the Loita Hills there is a strong possibility of meeting buffalo at close quarters and elephant might possibly be encountered in some forested areas. Of the carnivores hyena and leopard are common and we might even see hyena while we walk. It's highly unlikely that we will see any of the cats while we walk. Almost all animals will be aware of our presence long before we are of theirs and they will do everything they can to keep clear of us. The Maasai guides we will be using during the walk have grown up in the bush and are very knowledgeable about the behaviour of the animals and know how to keep us out of danger. They have years of experience of exploring the bush and none of them have ever had an incident involving wildlife and tourists. To summarise then the risks posed by the local wildlife are low. You will though be asked to sign a waiver form in-case of a wildlife related incident.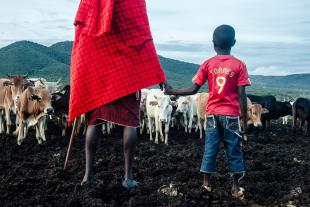 Ol Derikesi Conservancy & the Masai Mara National Reserve The Masai Mara National Reserve is the Kenyan part of the great Serengeti plains (the vast bulk of which is in Tanzania). This is the home of the annual wildebeest migration when over a million wildebeest, zebra and others migrate with the rains between Tanzania and Kenya. The Masai Mara is one of the most popular parks in Kenya and has all of the 'Big Five' present (lion, buffalo, hippo, elephant and rhino although there are very few rhinos left) and huge herds of other animals. Surrounding the reserve are a number of community conservancies which offer highly exclusive safari experiences to a very limited number of guests. In the opinion of many safari experts these conservancies offer one of the finest safari experiences in the world. Normally however only guests of the handful of very upmarket camps found in each conservancy are permitted to go on safari inside the conservancy. The Ol Derikesi Conservancy sits on the eastern border of the Masai Mara and right on the frontier of Tanzania. It offers outstanding game viewing including a very high density of lions. There is currently only one, very small, camp, Cottars 1920's Safari Camp, located inside the conservancy and normally their guests have exclusive access to the conservancy. However, we are lucky enough to have been granted rare access to the conservancy to spend two days on safari at the end of our walk. We will be using the fully customised open sided safari jeeps of Cottars and their wildlife guides during this period. We will also have someone from the conservancy come to talk to us one evening to explain how the conservancy concept works and what the local people and wildlife gain from it. We will not however be staying at Cottars 1920's Camp itself but rather will be bush camping in the nearby vicinity. Having the opportunity to visit a conservancy in this manner is a very rare privilege that is being offered only to us.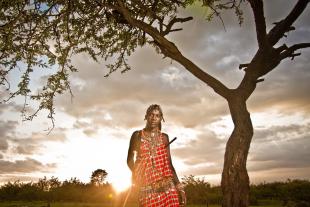 Dates Prices Prices are based on a minimum of six clients and a maximum of eight. Price for a client group size of six people is Euro 3500 per person Price for a client group size of eight people is Euro 3150 Booking For details of how to book and terms and conditions please email Stuart on mail@stuartbutlerjournalist.com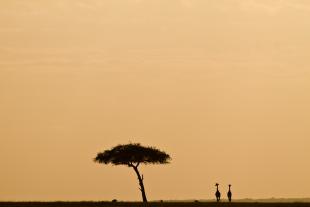 What's Included 14 nights accommodation on a sharing basis (single supplement available). Breakfast, lunch, dinner and snacks from arrival in Nairobi at start of safari to departure from Nairobi at end of safari. In Nairobi meals are included only if eaten at our chosen accommodation. All bottled/treated water, soft drinks, tea, coffee and a limited selection of alcoholic drinks (beers, wines and some selected spirits) included throughout the safari except in Nairobi. Transport by jeep between Nairobi and the safari start/end point. Baggage transfer between each nights camping sight Guide fees Conservancy fees Jeep safaris in the Ol Derikesi Conservancy Return airport transfer from Nairobi international airport to our accommodation in Nairobi What's Excluded International flights Visa fees Vaccinations/malarial medication Flying Doctors insurance (compulsory for all clients) Travel insurance (compulsory for all clients) Drinks in Nairobi Certain alcoholic spirits Any fees requested by local people for photographs Souvenirs Tips for guides/drivers